Gas Logs — Ventless and Direct-Vent
Gas fireplaces are more affordable and easier to install than ever before. Ventless and Direct-Vent gas fireplaces provide the convenience of having a warm fire without the hassle and mess of wood-burning.
When you are done enjoying your fire, you can simply flip off the switch. Barnhill Chimney has years of experience installing gas fireplaces. Give us a call or stop by our extensive showroom and we'll help you create the warm, cozy experience you've longed for in your home.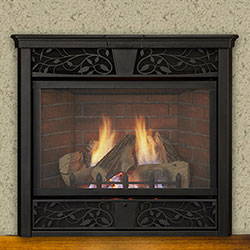 A ventless gas fireplace is the simplest way to add an inviting fire to virtually any room while eliminating the need for a chimney or vent. Ventless gas fireplaces are easy to install and are available in a variety of finishes perfect for traditional or contemporary homes. This energy efficient alternative also offers a realistic-looking flame pattern. Featuring a zero clearance design, these units offer flexibility unmatched in standard fireplaces. Hiring a professional to complete the installation of a ventless gas fireplace is essential for a tight-fitting and accurately adjusted unit.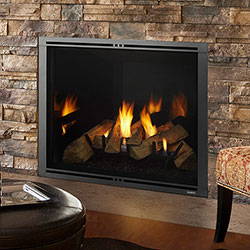 One of the most popular alternatives to the standard wood-burning fireplaces is a direct vent gas fireplace. Direct Vent Fireplaces are a pre-fabricated metal fireplace with glass front panels. These closed combustion units feature simple installation, burn cleanly, and require little maintenance. They are also excellent at radiating heat throughout an entire room. With many trim options available, a direct vent fireplace is certain to add elegance and style to your home.
Or fill out the form and we'll have a technician call you ASAP to talk about gas logs for your home
Thanks! We'll get back to you shortly